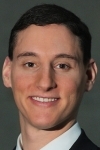 Birthdate: Sept. 27, 1977
Birth Place: Cleveland, OH, United States
Residence: Lyndhurst, OH
Religion: Judaism
Gender: Male

Education
Josh Mandel was born in Cleveland, the grandson of holocaust survivors. He earned a bachelor's in communications from Ohio State University and a law degree from Case Western Reserve University.
Mandel's interest in politics began early, with stints on his high school student council, student government at Ohio State University and election to Lyndhurst City Council by the time he was 26.
He joined the U.S. Marine Corps Reserves in 2000, serving eight years that included two tours of active duty in Iraq.
Mandel was elected to the Ohio House in 2006, serving until his election to state treasurer in 2010. In 2011, he launched his campaign for the U.S. Senate, challenging Democratic incumbent Sen. Sherrod Brown in the 2012 general election.
Mandel and his wife, Ilana, live in Lyndhurst.
Profile
Josh Mandel is a hard-driving Ohio Republican whose support for popular bipartisan issues such as job creation and government fiscal responsibility has taken his career from local city council to state treasurer to a chance at the U.S. Senate in just 10 years' time.
With a crew cut, youthful visage and an easy manner, Mandel has succeeded as a Republican in a heavily Democratic area of the state through energetic grassroots campaigning and aggressive fundraising. As a local councilman, he successfully fought for a property tax rollback that was the city's first and among the few in Ohio history.
Mandel won his first state office in 2006, when he was elected to a seat in the Ohio House, representing southeastern Cuyahoga County. He was re-elected in 2008, despite Democrats outnumbering Republicans in the district 2-to-1. Mandel sponsored four bills during his tenure as a state legislator, none of which became law.
As Ohio Democrats struggled against a down economy and a scandal that marred the attorney general's office, Mandel was recruited for the 2010 statewide ticket. He defeated incumbent State Treasurer Kevin Boyce in a campaign criticized as racist after Mandel aired an ad falsely implying that Boyce was Muslim. Mandel won 80 of 88 Ohio counties, joining a GOP sweep of statewide nonjudicial offices. Actor John Ratzenberger, who played Cliff the mailman on the television show "Cheers," officiated at his inauguration.
The Ohio treasury received solid financial marks on Mandel's watch, but his administration was marred by controversies: launch of a public employee database riddled with errors and omissions, Mandel's failure to attend more than a year's worth of meetings of a powerful deposit board he chaired, and allegations he had hired a cadre of personal friends and political operatives onto the state payroll. He also gave a few hefty raises.
Nonetheless, Mandel continued to be popular with his party and with political donors, who have poured millions into his bid to unseat Brown, Ohio's senior senator. Mandel has emphasized his Marine service in the campaign, and received the endorsement of U.S. Sen. John McCain, the 2008 Republican presidential nominee, among other high-profile figures.